Fun-sized Fair Attractions
Not only is the Fair fun for all members of the family, it's educational too! Even the youngest fairgoer will learn about the importance of agriculture here in Texas. On any given day, there are tons of family-friendly activities and exhibits included in the price of admission.
A few things to know before you hit the fairgrounds:
Admission for children ages 3-12 is $14 and children ages 2 and younger are free.
The State Fair of Texas offers a Safe Kids Program for lost children. Pick up wristbands for your children at any Information Center around the grounds.
The Kidway area of the Midway is a family-friendly environment with scaled-down rides and games for fun-sized fairgoers.
Strollers can be rented from an independent concessionaire at four locations in Fair Park – the Pennsylvania pedestrian gate, inside the Parry entrance, and the Grand gate.
You can bring the following items into the State Fair: wagons, coolers & ice chests, and your own food. For more information on items that are allowed in the Fair, see the Frequently Asked Questions.
State Fair coupons are used to pay for Midway rides and any food items. Coupons are $.50 each and may be purchased at coupon booths located throughout the fairgrounds.
There are hundreds of daily activities and shows at the State Fair of Texas; check the daily schedule or pick up a Visitor's Guide at entry gates upon arrival.
All the shows and attractions listed below are FREE with the price of admission.
World of Birds Show presents: SOAR!
After a six-year hiatus, this fairgoer favorite is coming out of retirement to return to the State Fair of Texas. "World of Birds Show presents: SOAR!" Steve Martin and his stunning array of birds from all across the globe have flown out of retirement and nested back into the historic Band Shell for an all-new, high-flying adventure. With a cast of new species, as well as memorable feathered friends, "SOAR!" brings the aviary world up-close to the audience with bird releases from the Texas Star Ferris wheel and flyovers just inches from guests' heads. "SOAR!" is also filled with a wealth of knowledge regarding bird health, habitat information, and conservation efforts taking place across the world.
¡Fiestas de Marionetas!
An all-new family-friendly experience presented by McDonald's, "¡Fiestas de Marionetas!" is one of this year's not-to-miss shows. Surrounded by lights and beautiful landscaping, a small village of more than 85 handmade marionettes come to life to celebrate a fiesta of color, culture, and creativity. Be sure to stick around for the backstage tour and craft activity after the show.
Mighty Mike Show
Step right up! Be witness to Mighty Mike's incredible feats of strength in the "Mighty Mike Show." A bender of horseshoes, juggler of bowling balls and sledgehammers, and all-around charmer, Mighty Mike's funny performance showcases strongman strength techniques dating back to the 1920's and, dare we say, questionable dance routines. Audience members will laugh the entire show but also leave motivated and inspired by the culture of the old-time strongman.
Contain Yourself(ie)
Ready, set, smile! The area around the historic Lagoon will be transformed into a walking selfie stroll called Contain Yourself(ie). Stop and pose by one of ten beautifully painted shipping containers. Aligning with our theme, "Celebrating Texas Creativity," these shipping containers will feature one-of-a-kind artwork painted by participating Texas artists. Head on over to the lagoon to get the perfect shot during your visit to the Fair.
Splashdance!
Developed exclusively for the State Fair of Texas, "Splashdance!" combines a high-energy performance of professional dancers and acrobats with the wowing Esplanade fountains. Set to festive music, this spectacular new show will dazzle and entertain guests of all ages. Prepare to be awed by "Splashdance!" daily on the Mattress Firm Stage on the Esplanade.
All-Star Dog Stunt Show
Offering the world's first and original "stunt dog show," audiences of all ages will be captivated by amazing canine tricks you have to see to believe! The All-Star Stunt Dog Show dogs have performed across the country, including appearances on the Ellen DeGeneres Show and Oprah Winfrey Show. All the dogs have been rescued from shelters and trained to showcase their unique talents. From jump roping, to barrel racing, and even juggling, this show is guaranteed to be dog-gone fun.
Backyard Circus
The Backyard Circus offers young fairgoers in the audience a chance to dress up and take part in the show as lion tamers, tight-rope walkers, ballerinas and a host of other circus favorites.
Big Tex's Farmyard
Old McDonald himself would be impressed by what's happening over on Big Tex's Farmyard.  The Farmyard provides an educational experience through interactive exhibits as well as live animal displays. This area of the Fair is an excellent way for fairgoers of all ages to learn about agriculture and livestock's impact on our daily lives.
Open daily from 10 a.m. to 6:30 p.m.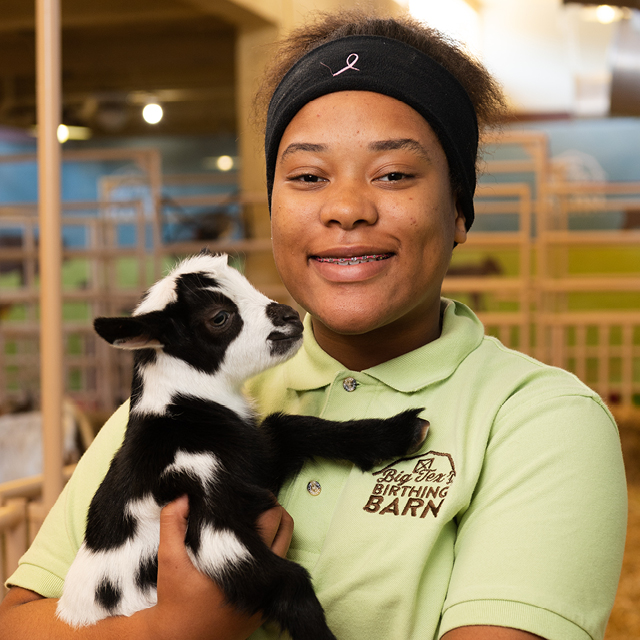 Livestock Birthing Barn
Experience the miracle of life right before your eyes in the Livestock Birthing Barn. This unique educational experience, exhibiting the incubation and birthing process of various livestock animals. With agriculture and education as the Fair's foundation, the new Livestock Birthing Barn highlights the agricultural importance of breeding livestock and its role in our everyday lives. Stop by the Livestock Birthing Barn, located at Nimitz and MLK, to learn more about the birthing process.
Chainsaw Carver
Watch Burt Fleming as he takes a blank section of timber and turns it into a work of art using his chainsaw. Owls, eagles, bears, alligators – Burt can find all these and more inside logs and pieces of wood. This chainsaw carver's natural talent and quick wit are not to miss.
Suitable for all ages.
Charlie the Unipony
World-class street performer, Wade Henry, performs amazing tricks and stunts on his trusty unicycle – Charlie the Unipony.
Home on the Range
Debuting in 2018, Home on the Range, features the re-designed Little Hands on the Farm farm-to-market activity for little ones, as well as the Children's Barnyard petting zoo, Home on the Range brings these two popular activities together in a themed, indoor location. You don't want to miss this all-new experience.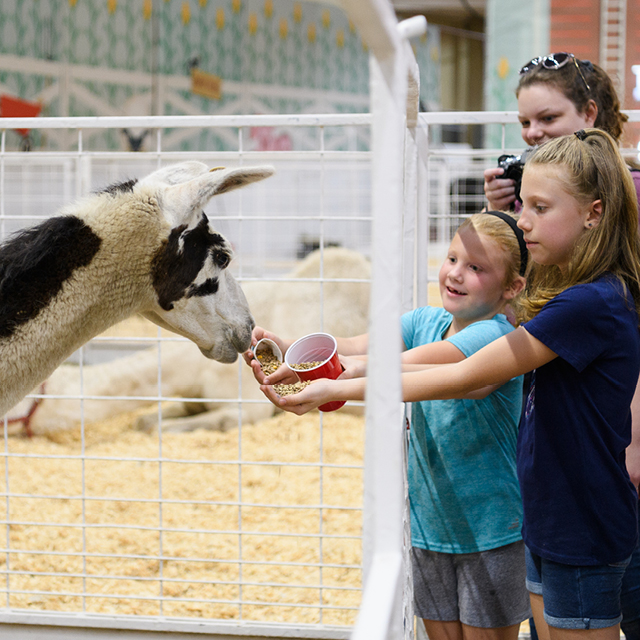 Home on the Range Barnyard
Get up close and personal with a variety of farm friends, from pigs to goats and practically everything in between. While you're there, make sure and visit the nursery where sows, ewes, nanny goats, and their young are on display.
Open from 10 a.m. to 9 p.m. Sunday through Thursday, and 10 a.m. to 10 p.m. Friday and Saturday.
Suitable for all ages.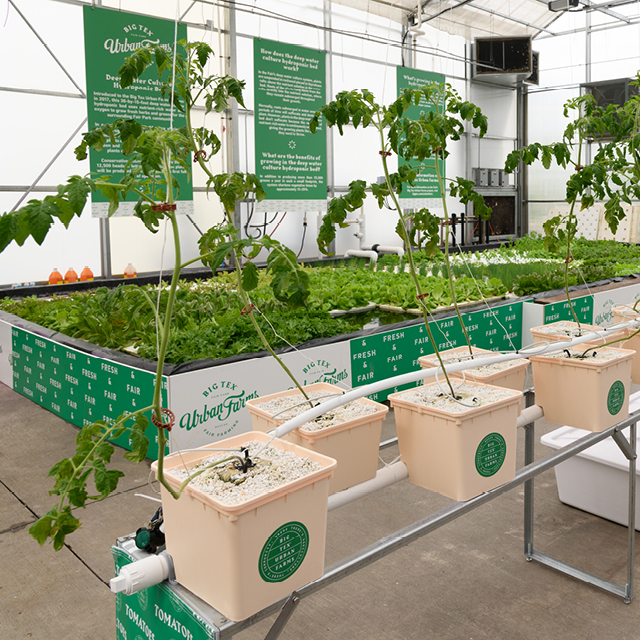 Innovations in Agriculture
Showcasing the State Fair's Big Tex Urban Farms indoor growing facility, the Innovations in Agriculture exhibit displays unique ways to grow high-yield, healthy produce indoors. The exhibit also includes DIY growing systems that can be built in your home and how they are utilized in the Fair's Big Tex Urban Farms initiative.
Kids' Pedal Tractor Pulls
Kids ages 4 through 12 are invited to test both their tractor driving skills and their leg power as they compete to win prizes, while the crowd cheers. Each vintage pedal tractor is weighted so the further you pedal, the harder it is to reach the finish line.
Suitable for ages four to 12 years old.
Starlight Parade
Family fun doesn't end when the sun goes down. Each night at 7:15 p.m. the State Fair presents the Kroger Starlight Parade, a lighted procession featuring spectacular floats, lively music, dazzling costumes, and a fun assortment of characters.
Every night at 7:15 p.m.
Suitable for all ages.
Little Hands on the Farm
Kids love this miniature farm where they can plant seeds, gather eggs, and drive a tiny tractor before harvesting crops and taking them to market. With earnings from selling their crops, kiddos can purchase snacks in the General Store.
Mon-Thurs: 10 a.m. – 8 p.m.
Fri-Sun: 10 a.m. – 9 p.m. 
Suitable for toddlers to ten years old.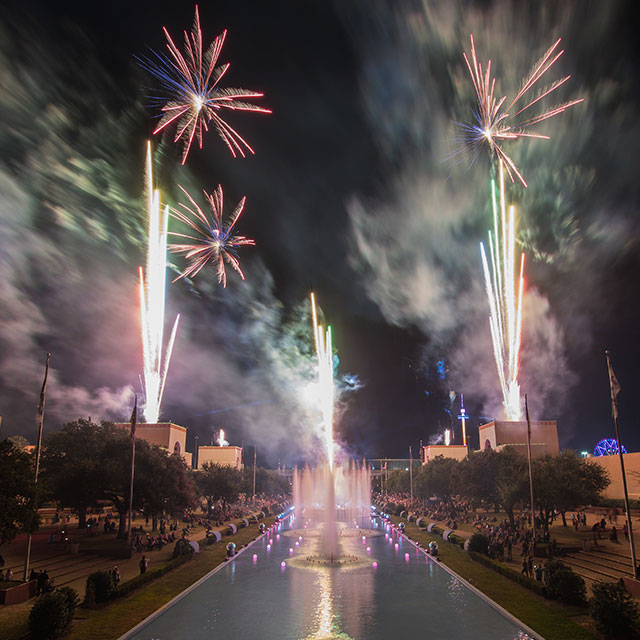 Mattress Firm Illumination Sensation
Set along a scenic reflecting pool, Mattress Firm Illumination Sensation wows the crowd with dancing waters, fireworks and high-energy pop music with engaging performances by dancers and acrobats.
Begins nightly at 8 p.m.
Suitable for all ages.
Majesty of the Horse
Join renowned horseman Jerry Diaz for an intimate presentation displaying the majesty and beauty of the horse.
Suitable for all ages.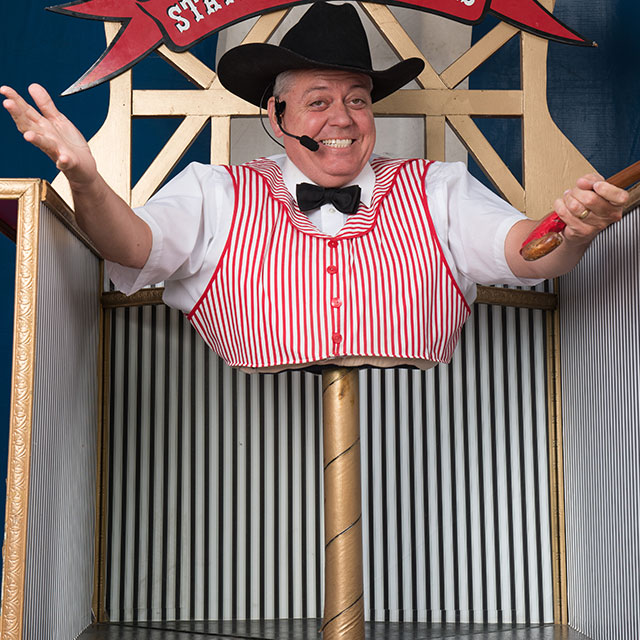 Midway Barker
He ain't got no body! Don't miss this hoot of a performance! The Barker entertains Midway crowds with his antics and jabs – all in good fun. A funny-bone tickler!
Suitable for all ages.
Milking Parlor
Get a glimpse of life on the farm by attending one of the Milking Parlor Demonstrations.  Cows from nearby farms are brought to the Fair for an entertaining and educational exhibit of modern milking procedures. Be sure to stop by for this unique demonstration!
Milking Parlor Demo times:
Mon – Thurs –  1:30, 2:30, 3:30, 4:30, 5:30, 6:30
Fri – Sun – 10:30, 11:30, 1:30, 2:30, 3:30, 4:30, 5:30, 6:30
Pee Wee Stampede and Rodeo
This fun-filled activity allows the littlest of fairgoers to grab their cowboy gear and ride stick-horses while competing in a variety of mock-rodeo events. From bronco busting to barrel racing, kids are the stars of this rodeo.
Suitable for children ages three through six years old.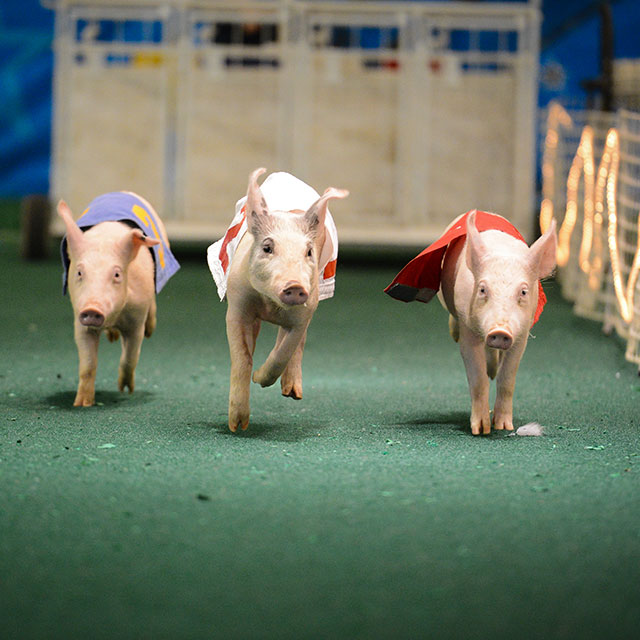 Pig Races
Here they come, snout-to-snout, down the stretch, back by popular demand! The Pan-Am Arena is home to the most talked-about track in town; the pig races. Dressed in fetching racing silks, the wiggly piglets run the course while fairgoers cheer them on.
Suitable for all ages.
"TX Stunt Jam" at the Xtreme Sports Zone
TX Stunt Jam is an all-new extreme stunt show you won't want to miss! Developed exclusively for the State Fair of Texas, this BMX, skateboard, and scooter show spotlights some of the best riders the Lone Star State and nation have to offer on a custom-built professional competition-style course with quarter pipes, box jump, hand rails, open loop, and so much more. Come check out this high-energy show in Chevrolet Park Plaza and see how we take "everything is bigger and better in Texas" to the next level.
World of Magic
Featuring award-winning illusionists and futuristic elements that captivate people of all ages, "World of Magic" showcases a display of neon lighting, lasers, and even a floating robot! That's right, a floating robot.