Fun-sized Fair Attractions for Everyone
The State Fair of Texas is the most Texan place on earth, and nothing is more Texan then having fun! On any given day, there are tons of family-friendly activities and exhibits, all FREE with your admission ticket. Here are some of the new, enhanced, and returning attractions for this year's Fair!
Soap Bubble Circus
The excitement will bubble over with this new attraction! Every day, you can join us at the Oak Farms Theater, where Soap Bubble Circus performs Guinness World Record-breaking feats of bubble-ology. You'll see a snowman  dancing across a tightrope, an exploding volcano, and more at this show.
Street Circus
A new addition to the Fringe Stage, this husband and wife-duo bring their acrobatic act to the Fair for the first time this year. Showcasing hand-to-hand acrobatics, hula hoops, handstands, contortion, comedy, and more, you won't want to miss this show.
Dinosaurs at the Lagoon
The wonders of the prehistoric area make their way to Fair Park for this year's Dinosaurs at the Lagoon. Featuring 10 life-sized dinosaurs found in Texas, a kids' play area, and plenty of seating and dining options, the brand-new Dinosaurs at the Lagoon exhibit brings together Fair fun with bilingual educational entertainment for the whole family. Be sure to get your photo with a 57-foot-tall Alamosaurus!
Dino Tales with Dr. Diggie-Bones
Join Dr. Diggie-Bones at her dig site for an interactive story time focused on archeological digs, pre-historic creatures, and more! Part of the Dinosaurs at the Lagoon exhibit, Dr. Diggie-Bones reads t.-rex-rrific stories to children under eight at the dig site tent.
Acrobuffos
In the sweltering Texas heat, what better way is there to cool off than a water balloon fight? You're in luck – a new attraction to the Fair this year, Acrobuffos brings Water Bombs to the Fringe Stage. Grab a seat and prepare to be entertained by this interactive and epic water balloon fight. Just be sure you bring an umbrella if you don't want to get wet!
Home for the Holidays Experience
In partnership with the Texas Discovery Gardens and Jackson's Home and Garden, start your holiday celebrations early at the Fair this year! Beautifully decorated Texas Christmas trees will be on display for you and the whole family to see – and maybe take some inspiration for your celebrations later this year.*Attraction included with paid admission to Texas Discovery Gardens.
Sarah Twister
World-renowned street performer Sara Twister brings her contortionist and archery skills to the Fringe Stage this year. Featuring mind – and body–bending archery trick shots and plenty of comedy, this show has something for everyone in the family.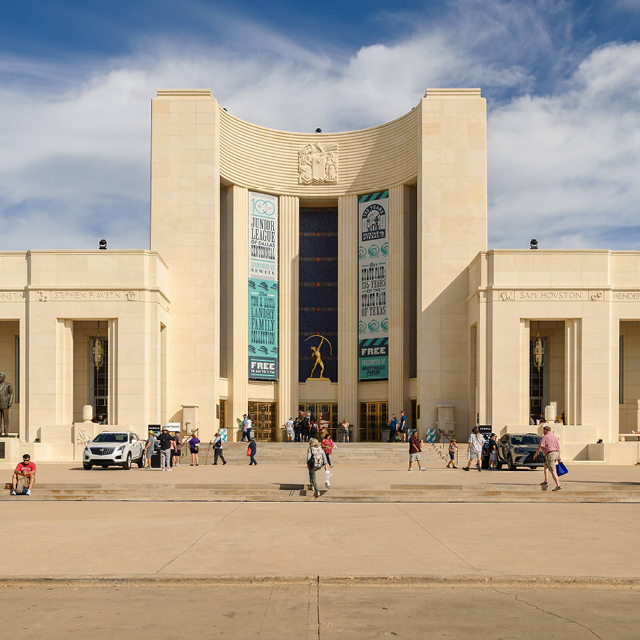 Hall of State: Texas Tech University Centennial
While visiting the State Fair of Texas, be sure to visit the Texas Tech Centennial Exhibit in the Hall of State. The exhibition will focus on Texas Tech's first 100 years, including its history and the heritage of its unique Spanish Renaissance architecture. The exhibit will also showcase significant achievements in athletics and will place a spotlight on Tech's most impressive and influential people. Open daily from 10 a.m. to 7 p.m. Free with admission.
Back and Better than Ever!
Starlight Parade
Featuring brand-new, over-the-top, spectacular floats, the Kroger Starlight Parade will light up the Fair Park skyline in all-new ways at this year's Fair. Created by Kern Studios of New Orleans, this nightly parade wanders through the fairgrounds all 24 nights of the Fair, bringing a colorful assortment of floats, life-size puppets, animated characters in ornate costumes, and more. Don't leave the Fair without witnessing this bold and bright procession! 
Every night at 7:15 p.m.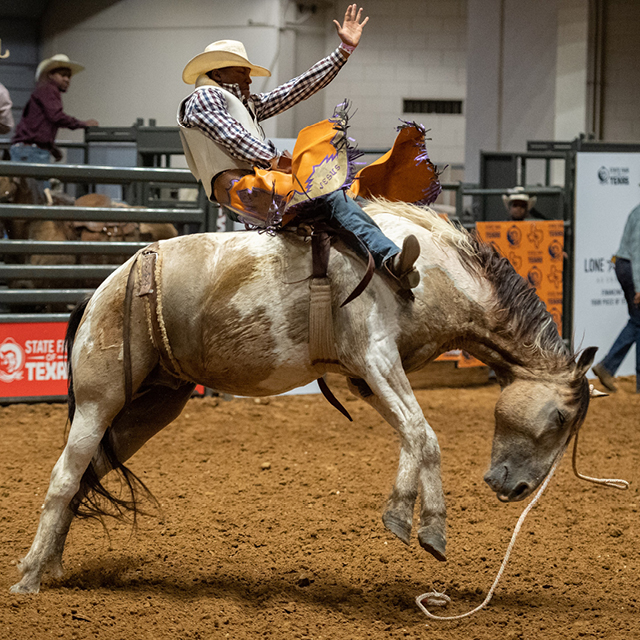 State Fair of Texas Rodeo
Dust off your boots and join us in the historic Fair Park Coliseum for the return of the State Fair of Texas Rodeo. Every weekend, Friday through Sunday, witness the best of the best in the ring – whether it's rounding up cattle as part of the State Fair of Texas Ranch Rodeo or celebrating the variety of culture in rodeo as part of the Mexican Rodeo Fiesta. New this year, the State Fair of Texas is proud to welcome the Year-End Finale of the United Professional Rodeo Association (UPRA) to the Fair Park Coliseum this October as part of the Fair's rodeo lineup. 
Click Here For the Entire Rodeo Lineup
Mundo Latino
Mundo Latino brings their awe-inspiring exhibit, "Día de Los Muertos," celebrating the rich history and significance of the Day of the Dead. This experience will entertain fairgoers and explore the cultural significance of the holiday by featuring art installations and live painting.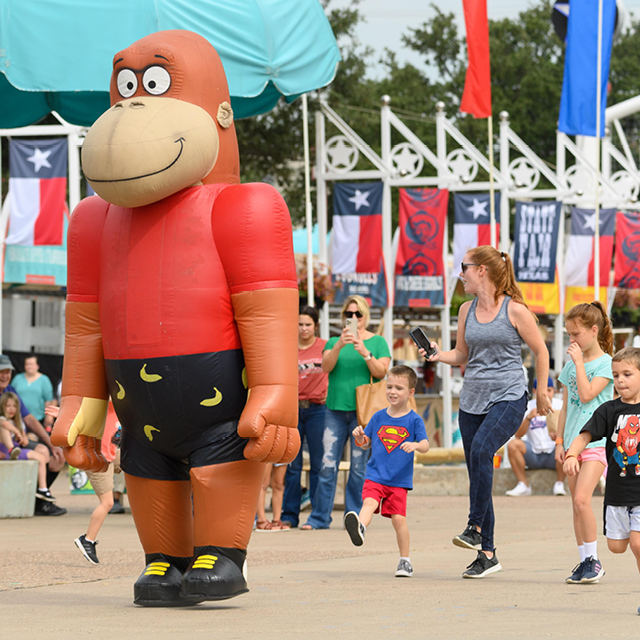 Showstoppers!
The lives of the party return with two new characters you might recognize – Showstoppers will take over the Hall of State steps again this year. Giant inflatable characters, now including Little Big Tex and Champ, entertain guests of all ages with their wild antics. Saddle up for a front row, and you might get roped into being a part of the show. 
Mighty Mike Show
Join us over at the Fringe Stage with strongman Mighty Mike. A bender of horseshoes, juggler of bowling balls and sledgehammers, and all-around charmer, Mighty Mike's funny performance showcases strongman strength techniques dating back to the 1920s and, dare we say, questionable dance routines. Audience members will laugh the entire show but also leave motivated and inspired by the culture of the old-time strongman. 
¡Fiestas de Marionetas!
A family-friendly experience presented by McDonald's, "¡Fiestas de Marionetas!" is one of this year's not-to-miss shows. Surrounded by lights and beautiful landscaping, a small village of more than 85 handmade marionettes come to life to celebrate a fiesta of color, culture, and creativity. Be sure to stick around for the backstage tour and craft activity after the show. Come check it out yourself with daily performances at the McDonald's Amphitheater on First Avenue. 
Tanna Banana Storytime
A new show at the State Fair of Texas, Tanna Banana brings children's stories and songs to life! Her antics delight her audiences with a magical and fun show for the young and the young at heart. Located at Howdy's near the Band Shell.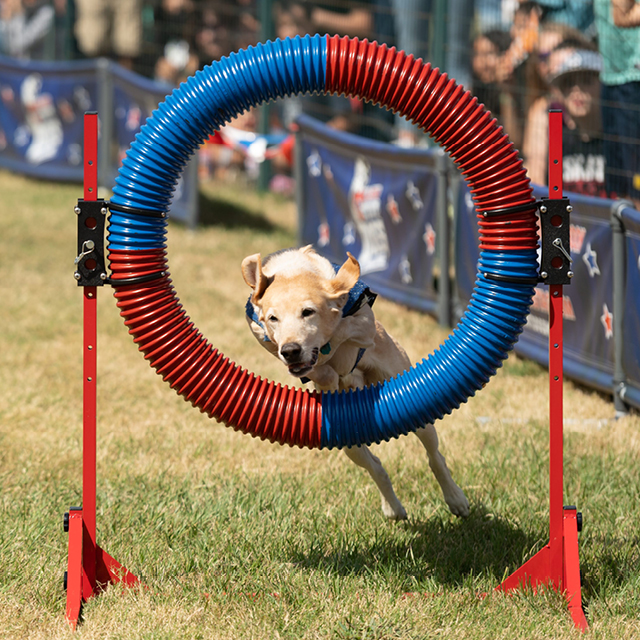 All-Star Stunt Dog Show
If you're ready for some dog-gone fun, you're in luck! The All-Star Stunt Dog Show returns to Marine Corps Square for this year's Fair. Offering the world's first and original "stunt dog show," audiences of all ages will be captivated by amazing canine tricks you have to see to believe! The All-Star Stunt Dog Show dogs have performed across the country, including appearances on the Ellen DeGeneres Show and Oprah Winfrey Show. All the dogs have been rescued from shelters and trained to showcase their unique talents.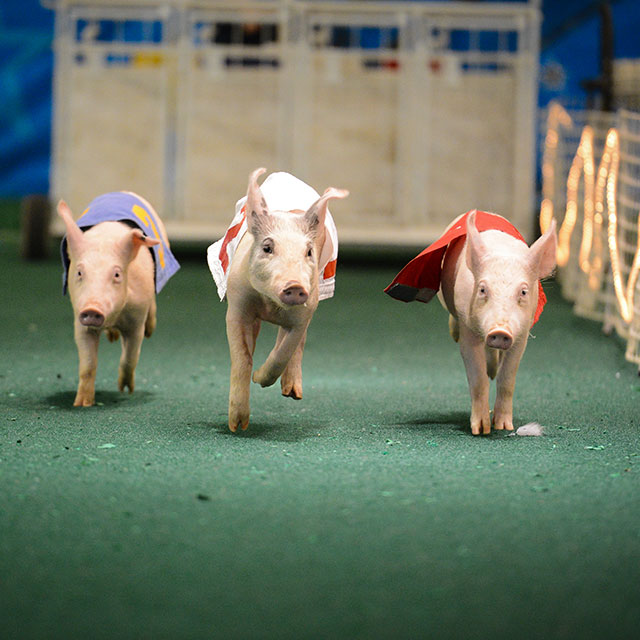 Pig Races
Here they come, snout-to-snout, down the stretch, back by popular demand!  Marine Corp Square is the new, outdoor home to the most-talked-about track in town, the Pig Races. Dressed in fetching racing silks, the wiggly piglets run the course four times a day. Don't miss this fan favorite! 
Majesty of the Horse
Combining agricultural education with real-world demonstrations, the Majesty of the Horse is back with even more examples to showcase equine beauty. Join renowned horseman Jerry Diaz and his family for an intimate presentation displaying the majesty and beauty of the horse. The exhibition includes multiple breeds of horses and showcases their unique color, size, and purpose.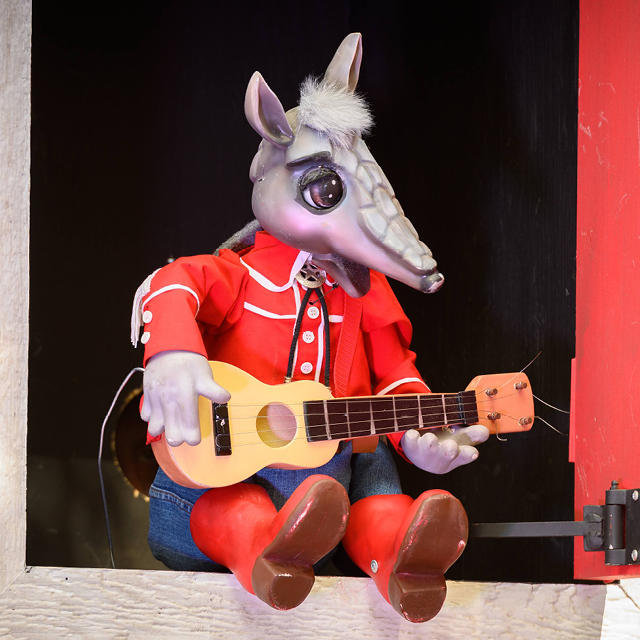 Country Roundup
Country Round-up, the puppet show created exclusively for the State Fair of Texas, returns for the second year to the Dr. Pepper Midway Stage with new tricks up its sleeve. Hee-haw meets America's Got Talent in this animatronic and manual puppet show.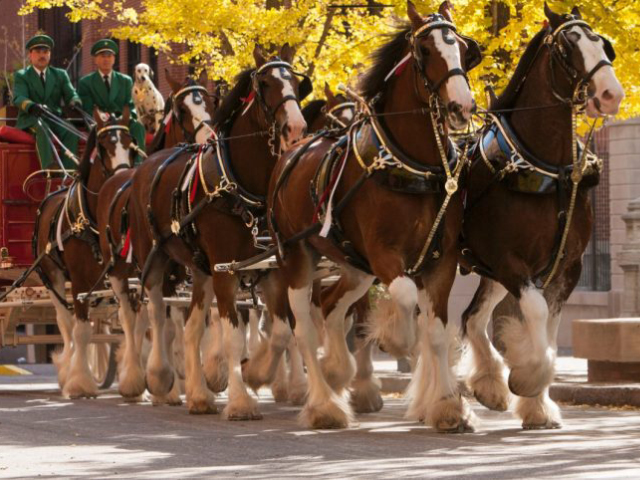 Budweiser Clydesdales
The world-famous Budweiser Clydesdales make their return to the State Fair.  The hitch team will make appearances in the Kroger Starlight Parade that begins nightly at 7:15 P.M. throughout the Fair grounds. The Clydesdales will also be on display daily for guests to visit in Chevy Park Plaza.
Big Tex's Discovery Farm
Old McDonald himself would be impressed by what's happening over on Big Tex's Farmyard.  The Farmyard provides an educational experience through interactive exhibits as well as live animal displays. This area of the Fair is an excellent way for fairgoers of all ages to learn about agriculture and livestock's impact on our daily lives.
Open daily from 10 a.m. to 6:30 p.m.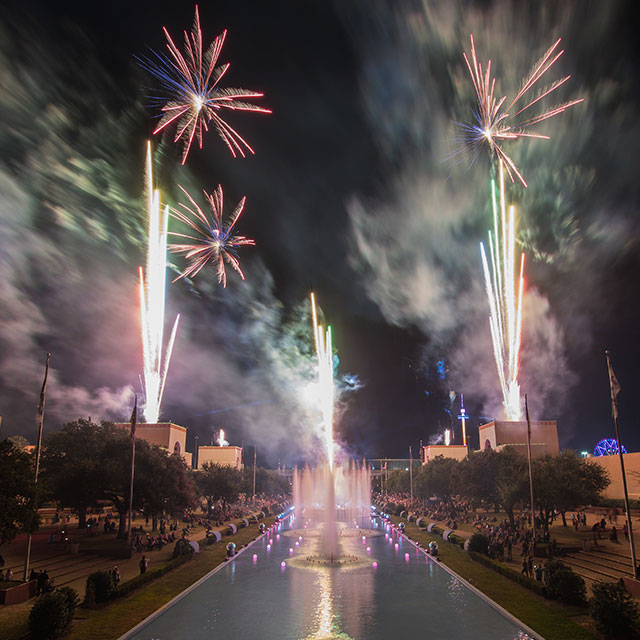 Mattress Firm Illumination Sensation
Set along a scenic reflecting pool, Mattress Firm Illumination Sensation wows the crowd with dancing waters, fireworks and high-energy pop music with engaging performances by dancers and acrobats. This sensational production of synchronized pyrotechnics and special effects begins nightly at 8 p.m. Show up early to stake out the best vantage points along the Esplanade!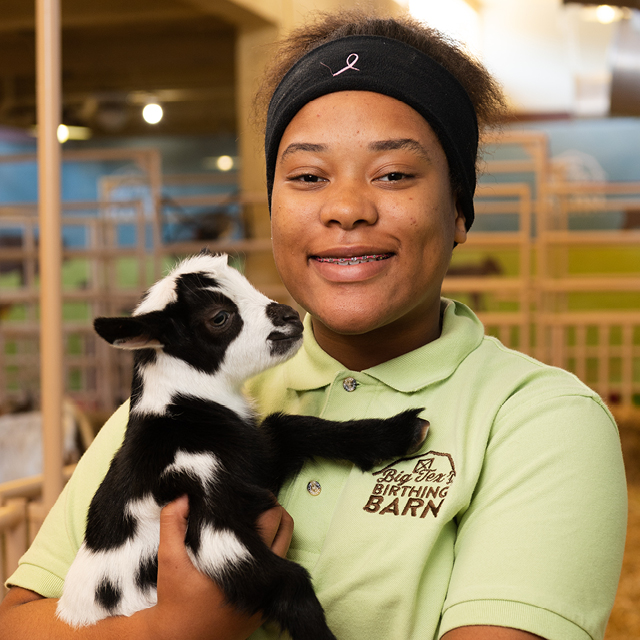 Livestock Birthing Barn
Experience the miracle of life right before your eyes in the Livestock Birthing Barn. This unique educational experience, exhibiting the incubation and birthing process of various livestock animals. With agriculture and education as the Fair's foundation, the new Livestock Birthing Barn highlights the agricultural importance of breeding livestock and its role in our everyday lives. Stop by the Livestock Birthing Barn, located at Nimitz and MLK, to learn more about the birthing process.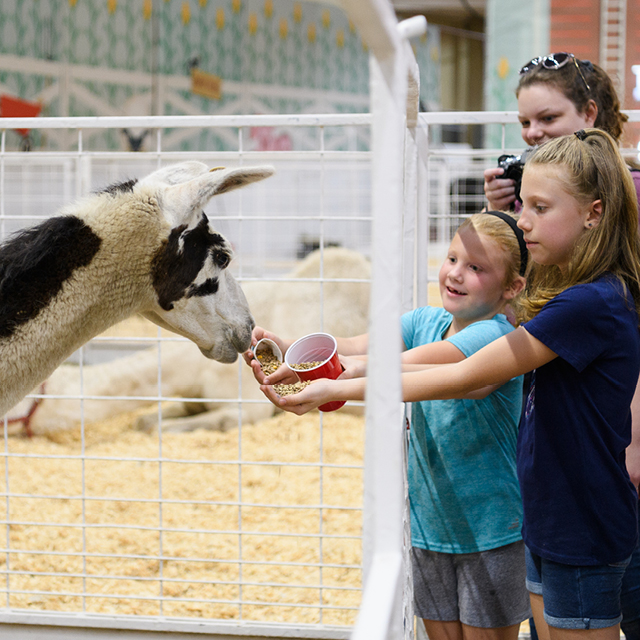 Oncor Petting Zoo
This year, the Oncor Petting Zoo has moved to the Pan Am Arena, which will allow fairgoers more room to mosey about and get up close and personal with a variety of farm friends, from emus and zebras to pigs and goats. While you're there, make sure to visit the nursery where sows, ewes, nanny goats, and their young are on display. Fun for the whole family, this petting zoo allows fairgoers to interact with all their furry friends, and even get the chance to feed them! 
Livestock 101
Come see experts share their knowledge about the animals in the barns. This daily talk show-style presentation is tailor-made for the animals that fairgoers will experience when touring through the livestock barns.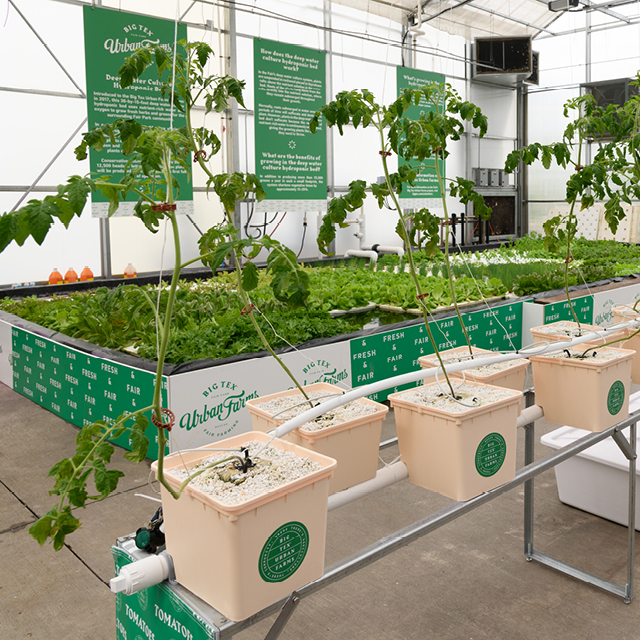 Innovations in Agriculture
Showcasing the State Fair's Big Tex Urban Farms indoor growing facility, the Innovations in Agriculture exhibit displays unique ways to grow high-yield, healthy produce indoors. The exhibit also includes DIY growing systems that can be built in your home and how they are utilized in the Fair's Big Tex Urban Farms initiative.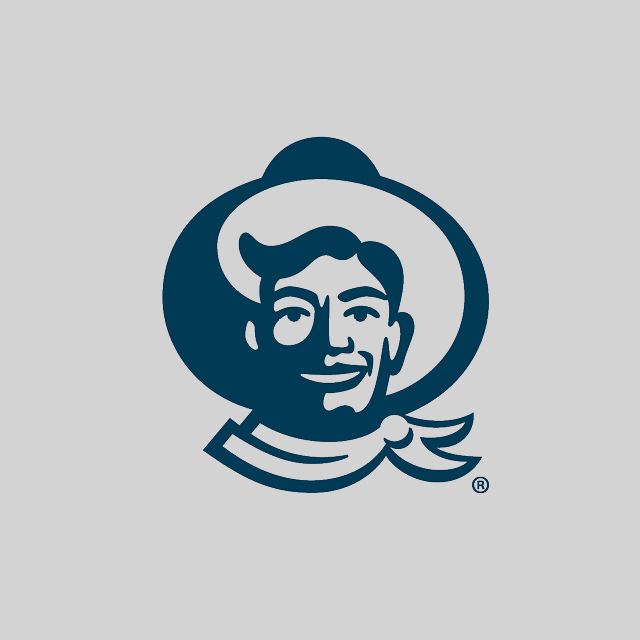 RAM TRX THRILL RIDE
The Ram Truck Brand returns to the State Fair of Texas with the Ram 1500 TRX Thrill Ride in-vehicle experience. Ride in the Ram TRX as it accelerates over a series of rolling hills testing performance capabilities of the TRX, races around a banked corner, stretches the suspension over rolling hills, rides high over a banked turn to experience the incredible agility and traction of the TRX as it builds speed turn after turn. Find the Ram TRX Thrill Ride near Gate 5.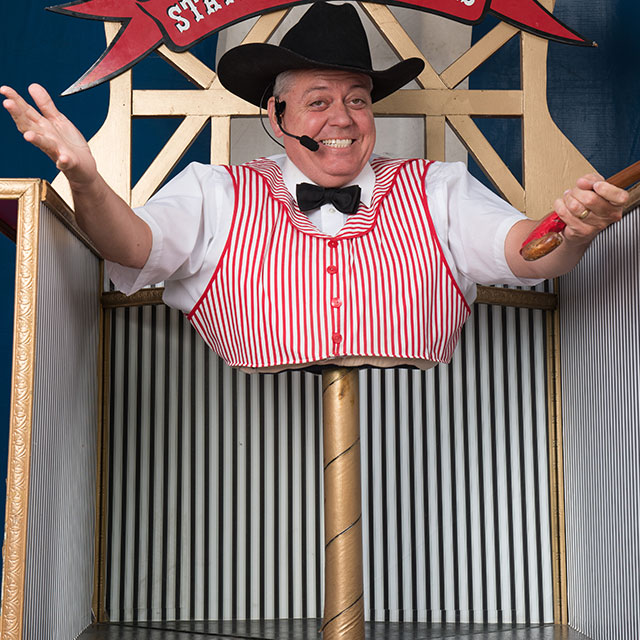 Midway Barker
He ain't got no body! Don't miss this hoot of a performance! The Barker entertains Midway crowds with his antics and jabs – all in good fun. A funny-bone tickler!
Suitable for all ages.
Milking Parlor
Get a glimpse of life on the farm by attending one of the Milking Parlor Demonstrations.  Cows from nearby farms are brought to the Fair for an entertaining and educational exhibit of modern milking procedures. Be sure to stop by for this unique demonstration!
Milking Parlor Demo times:
Everyday – 10:30 a.m., 11:30 a.m., 1:30 p.m., 2:30 p.m., 3:30 p.m., 4:30 p.m., 5:30 p.m.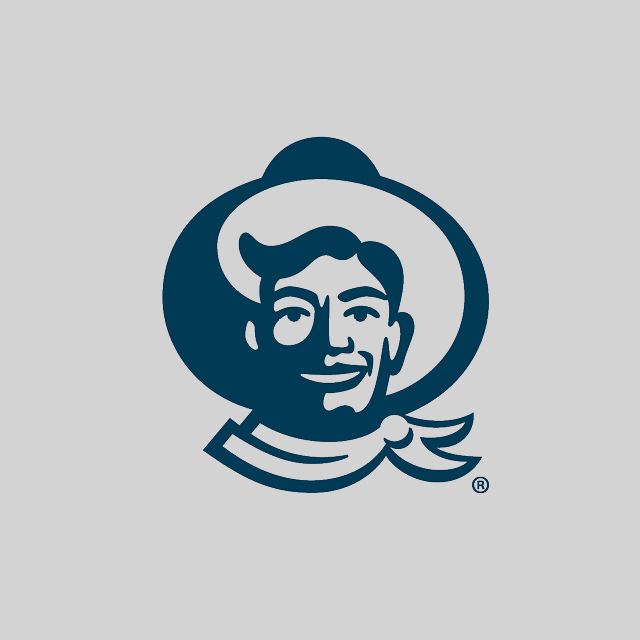 I Spy Texas
For fairgoers who want to learn more about agriculture and its significance in our everyday lives, the "I SPY TEXAS" exhibit is a perfect destination. Located near the Birthing Barn, this interactive exhibit takes visitors on a road trip of Texas, allowing them to tour each region of the Lone Star State and learn about the natural resources and wildlife native to each area.
World of Magic
Featuring award-winning illusionists and futuristic elements that captivate people of all ages, "World of Magic" showcases a display of neon lighting, lasers, and even a floating robot! That's right, a floating robot.
A Few things to know
Admission for children ages 3-12 ranges from $10-18, depending on the day, and children ages 2 and younger are free.
The State Fair of Texas offers a Safe Kids Program for lost children. Pick up wristbands for your children at any Information Center around the grounds.
The Kidway area of the Midway is a family-friendly environment with scaled-down rides and games for fun-sized fairgoers.
Strollers can be rented from an independent concessionaire at four locations in Fair Park – the Pennsylvania pedestrian gate, inside the Parry entrance, and the Grand gate.
You can bring the following items into the State Fair: wagons, coolers & ice chests, and your own food. For more information on items that are allowed in the Fair, see the Frequently Asked Questions.
State Fair coupons are used to pay for Midway rides and any food items. Coupons are $1.00 each and may be purchased at coupon booths located throughout the fairgrounds.
There are hundreds of daily activities and shows at the State Fair of Texas; check the daily schedule or pick up a Visitor's Guide at entry gates upon arrival.
All the shows and attractions listed below are FREE with the price of admission.
Jump Back to the Top