Cooking Contests At-A-Glance
The State Fair of Texas is known for its culinary creations, and there's no better place to see Texans serving up creative concoctions than the State Fair of Texas Cooking Contests. Held during the Fair each year, amateur cooks compete in contests to bring home the coveted blue (or purple) ribbon and bragging rights. With five new contests this year, there's an opportunity for every Texan to add their own personal flavor to a contest.
Cooking contests take place on specific days of the Fair in the Competition Kitchen. Though you may register on the day of each contest in the Creative Arts building, it is requested you register online beforehand at Creative.BigTex.com. Cooking contests are "day-of entry," which means you bring your prepared dish ready to go for judging. Categories for Cooking Contests range anywhere from a traditional Pie Contest to State Fair favorites like the Tex-Mex Contest.
Cooking Contest Schedule 2023
Saturday | Sept. 30 PIE
Sunday | Oct. 1 Pizza Cook-Off NEW
Monday | Oct. 2 Beekeepers Honey Contest
                             Honey, the Magic Ingredient
                             Farm to Fork
Tuesday | Oct. 3 4-H National Food Challenge
Wednesday | Oct. 4 Biscuits & Jam NEW
Friday | Oct. 6 Cooking with Cheese
Sunday | Oct. 8 Best of Show-Down (Invitation-Only)
Tuesday | Oct. 10 Chocolate
                                Low to No Sugar Cakes & Pies Contest NEW
Thursday | Oct. 12 Speedy Dishes Fair Concoctions
Saturday | Oct. 14 Youth Cooking Contest
Sunday | Oct. 15 International Cuisine NEW
Tuesday | Oct. 17 Ice Cream Freeze-Off NEW
Wednesday | Oct. 18 Cobbler Cook-Off
Friday | Oct. 20 Air Fryer, Slow Cooker, and Pressure Cooker NEW
Saturday | Oct. 21 Tex Mex
Sunday | Oct. 22 Candy
Register Here!
Download the Cooking Contest Guide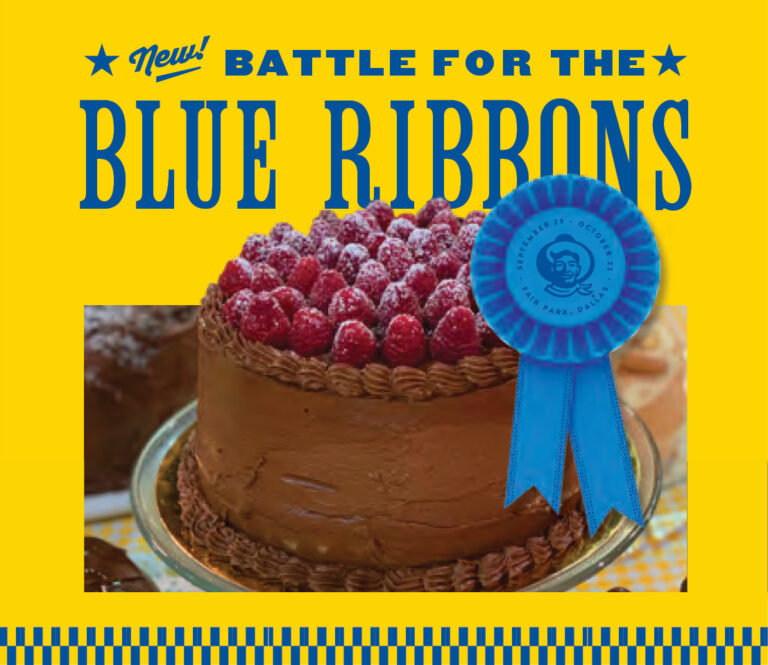 A New Way to Test Your Cooking Skills
The State Fair of Texas is announcing a NEW way to test your cooking skills. The Battle for the Blue Ribbons hosts three of the Fair's most popular Creative Arts Cooking Contests—Cookie, Cake, and Bread—over one weekend in May. All blue-ribbon winners from the three contests will be invited to "Best of Show-Down" in the Competition Kitchen during the Fair on Sunday, 10/8/2023. Each blue-ribbon winner will receive two (2) 1-day admission tickets and a 1-day parking pass to the 2023 Fair.
All cooking contests are open to ALL AGES. Contestants may enter each of the three (3) contests as part of this program. Contestants are limited to six (6) entries per contest, with one (1) per category. Ribbons will be awarded for First, Second, Third, and Honorable Mention.
Contests
Friday | May 19 Cookie
Saturday | May 20 Cake
Sunday | May 21 Bread
Sunday | October 8 Best of Show-Down
Contestants earning a blue ribbon in the Cookie, Cake, and Bread contest are eligible to compete in the Best of Show-Down.
DOWNLOAD THE MINI-GUIDE
GET INSPIRED WITH THESE TASTY TREATS